Famous Dog Lassie (名犬ラッシー Meiken Rasshī?) is a 1996 Japanese anime series produced by Nippon Animation as the 23rd entry of the World Masterpiece Theater staple. The anime is based on the 1940 novel Lassie Come-Home by Eric Knight and also the second animated Lassie series ever produced, since Lassie's Rescue Rangers.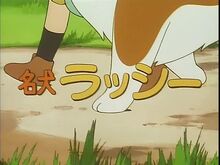 Screenshot from the television series of the opening title of Famous Dog Lassie
名犬ラッシー


(Meiken Rasshī)

Genre
Drama
Anime television series
Directed by
Sunao Katabuchi
Studio
Nippon Animation
Network
Fuji TV
Original run
January 14, 1996 – August 18, 1996
Episodes
26
Contents
   1 Themes
   2 Episodes
   3 References
   4 External links

Themes
   Opening Theme: "Owaranai Monogatari" by Jun Morioka
   Ending Theme: "Shōnen no Oka" by Jun Morioka

Episodes
1. I'm Not Alone 2. Disruptive Home Stay 3. Good-Bye Lassie 4. Father's Pay Day 5. 6 Mile Request 6. Run Through the Storm 7. Arrest the Muffler Burglar 8. I Dislike Lassie 9. Princess from the Sky 10. First Cake-Baking Session 11. Priscilla, Last Selfishness 12. Who Caused the Fire? 13. Sandy Steals Cows? 14. Follow the Strange Man! 15. Return the Innoncence of Ian! 16. Hurry Up! Help the Hopper Teacher 17. Ms. Curry's Marriage 18. Hurly Burly! The Elephant of the Circus Ran Away 19. Colin's First Love 20. Mother Fell! It is Serious 21. I Want to Meet Grandma 22. John's Decision and Mine! 23. Do Your Best to Defend John, Lassie! 24. Uncertain News! Searching for Lassie! 25. Welcome Home, Lassie 26. Run Toward the Dream
References
   "Lassie". Nippon Animation. Retrieved 2010-01-29.

External links
   Official Site at Nippon Animation (Japanese)
   Famous Dog Lassie (anime) at Anime News Network's encyclopedia